I'm not a pie person. I'm actually not much of a dessert person, though once in a while I just really, really want some chocolate. Especially if it comes wrapped around fruit, like these: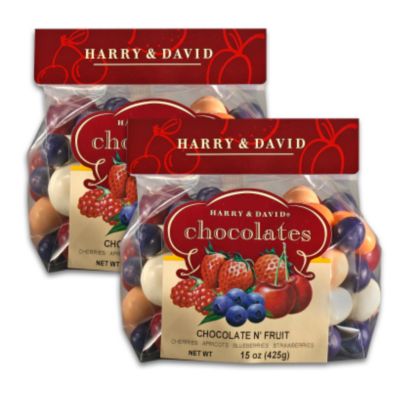 (Royal Fruit Chocolates, from Harry and David)
But, my sister really wanted a real pumpkin pie this Thanksgiving, made from a real pumpkin (not canned). So, my friend Teresa told me how to cook a pumpkin (and then got me another one after the first one was a complete fiasco, and believe me, that's a lot of work for a fiasco). Then, I baked a pie yesterday as a trial run, then took it to a bunch of people who actually know good pumpkin pie, and will be honest with me if mine wasn't. I think I found a winner - thanks to Robbie, who provided the recipe (even if his wife says that my pie was better than his).
I'll know Thursday if it passes my sister's inspection.
Here are instructions for
making pumpkin puree
(though I just kind of mashed it up with a potato masher, and it didn't turn out nearly this liquid-y).
And here's the recipe:
Pumpkin Pie

1 cup sugar
1/2 tsp salt
1 1/2 tsp cinnamon
1/2 tsp nutmeg
1/2 tsp ginger
1 1/2 cup cooked pumpkin
1 2/3 cup evaporated milk
1/2 tsp allspice
1/2 tsp cloves
2 eggs
9-inch pie crust, unbaked

Mix all ingredients until smooth. Pour into pie crust and bake 15 minutes at 450°, then reduce heat and bake 45 minutes at 325° or until knife comes out clean.

Note: I actually ended up cooking this significantly longer - almost 30 minutes, in 10 minute increments.